<!center><!video controls controlsList="nodownload" src="/video/Gameshows.mp4"><!/center><!br> <!center><!img src="/2019/images/menu/review.jpg"><!/center><!br> <!!! ALL-CON LLC>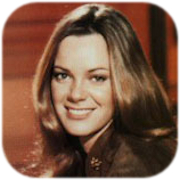 Celebrity Guest

Anne Lockhart
Anne Lockhart was initially chosen by Glen Larson, who sent her a very preliminary script, for a role in the 1978 television series Battlestar Galactica. She rejected the role initially, as the character wasn't that strong. Later, Glen wrote a new part just for her, with a much stronger character named ''Sheba''. After reading the first 25 pages of the script ''The Living Legend'', she accepted immediately.

She was a favorite of Glen Larson, and appeared in many of his other television series including The Hardy Boys/Nancy Drew Mysteries, B.J. and the Bear, Buck Rogers in the 25th Century (where she played two characters, ''Jennifer/Leila Markeson''), The Fall Guy, Knight Rider and Airwolf. She did two episodes of Magnum P.I.: in one episode she plays the younger version of her moms character, in the other she plays a younger version of herself.

She reunited with Noah Hathaway (who played ''Boxey'' in Battlestar Galactica) in the movie Troll, which also included her mother June Lockhart. She reunited with Donald Bellisario (Battlestar Galactica's producer and writer) in episodes of Airwolf, Quantum Leap and JAG. Anne worked again with Dirk Benedict (who played ''Starbuck'' in Battlestar Galactica) as ''Sylvie'' in his movie Cahoots which she also co-produced. They also worked together on War of the Worlds, which Anne produced and won a REP Award for ''Best Production of a Drama''. She appeared as the sister of another Battlestar Galactica alumni, Jane Seymour (who played ''Serina'') in Dr. Quinn, Medicine Woman.

She appeared with Star Trek actors George Takei (Sulu) and James Doohan (Scotty), as well as Randy Quaid in the monster spoof Bug Busters.

Anne's other notable film work include Slashed Dreams, Just Tell Me You Love Me, Young Warriors, E.T., Risky Business, The Oasis, A Dog's Tale, Daybreak and Disconnected. Her other notable television credits include Happy Days, Barnaby Jones, Emergency, Police Story, CHiPs, The Incredible Hulk, Voyagers, Murder, She Wrote, New Love American Style, Simon & Simon, Walker, Texas Ranger and L.A. Heat.