<!center><!video controls controlsList="nodownload" src="/video/Gameshows.mp4"><!/center><!br> <!center><!img src="/2019/images/menu/review.jpg"><!/center><!br> <!!! ALL-CON LLC>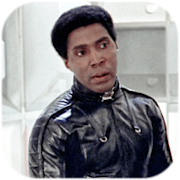 Celebrity Guest

Herbert Jefferson Jr.
Herbert Jefferson Jr. co-starred as merchant seaman Roy Dwyer in the award-winning novel for television Rich Man, Poor Man, its sequel, Rich Man, Poor Man Book II, and in other TV films such as the Emmy Award-winning mini series drama The Law, with Judd Hirsch, as Jamaican defendant Maxwell Fall, and the Revolutionary War Novel for TV, The Bastard as Lucas, one of the legendary Minutemen, which is based on the best selling book by historical novelist John Jakes.

Jefferson also appeared as a guest star in the pilot episodes of both the 1982 TV series Knight Rider as Muntzy, an undercover police officer and partner of Michael Long (who becomes Michael Knight), and the 1984 pilot of the TV series Airwolf, as the Commander of the aircraft carrier USS Enterprise.

He is probably best known for his role as Lieutenant Boomer on the original Battlestar Galactica television series. Later, in the 1980 spin-off Galactica 1980, his character was promoted to Colonel, and had moved up in the chain of command to become the Executive Officer of the Galactica.

His notable feature film credits include the award-winning Ron Howard film Apollo 13, and the Wolfgang Petersen film Outbreak. He also appeared in two films starring football legend Jim Brown, Black Gunn, as his brother, The Slams, as his cell mate, and ''Roger Corman'''s ''Private Duty Nurses'', as activist Dr. Elton Sanders.

In 2015 he appeared in the cameo role of ''Admiral Grant (Ben) Satterlee'' in the pilot of the web-based series ''Star Trek: Renegades''. In 2007 he portrayed ''Captain Gault'', a freedom fighter, in the Internet mini series Star Trek: Of Gods and Men, from the same independent production company.