<!center><!video controls controlsList="nodownload" src="/video/Gameshows.mp4"><!/center><!br> <!center><!img src="/2021/images/menu/review.jpg"><!/center><!br> <!!! ALL-CON LLC>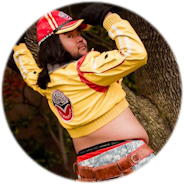 Independent Content

Franco Cosplay Comedy
Franco Cosplay Comedy has traveled to conventions in the past 17 years, spanning seven States and four countries. What he lacks in crafting (and repairs), he makes it up for stories and laughs in stand-up performances! Be it anime, video games, comics and streamer culture, he tell you things that he'll know...and make a fool of himself more of what he doesn't!

---
SAT 8:00 PM: I Couldn't Think of a Title: Franco Cosplay Comedy (45 mins.)

Room: TOPAZ (Lincoln, Upper) Rated: Mature

Produced By: Franco Cosplay Comedy

Speaking: Franco Cosplay Comedy
Out of the frying pan that's his home and into the fire that is the con, Franco surprisingly has material to spew out, ranging from the feelings when cons and events were cancelled, the surge of streamer culture as well as the evolution (or depending, devolution) of the cosplay scene. Vaxxed, masked and ready to kick...um, kick out boredom...here's hoping you'll get a kick from this stand-up panel! This panel is rated 18+ for crude humor and explicit content.

Category: Performance