<!center><!video controls controlsList="nodownload" src="/video/Gameshows.mp4"><!/center><!br> <!center><!img src="/2020/images/menu/review.jpg"><!/center><!br> <!!! ALL-CON LLC>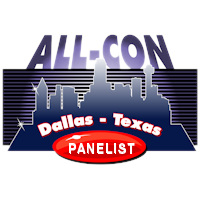 Karianne Cargill

Rogue One

---
THU 8:00p.m.: You Know In The Book They... (45 mins.)

Room: PECAN (2nd Floor, Back) Rated: Everyone

Produced By: ALL-CON Games and Theory; Rogue One

If your favorite book gets made into a movie but they change or leave out details you think are important and your family and friends are tired of hearing you complain then come on down. Come test your knowledge against others who feel the same way you do and come be proud of your knowledge and show it off.
Speaking: Karianne Cargill

Category: Gameshow

---
SAT 1:00p.m.: Family Feud Convention Edition (45 mins.)

Room: PECAN (2nd Floor, Back) Rated: Everyone

Produced By: ALL-CON Games and Theory; Rogue One

Do you enjoy going to cons? Do you think you know everything there is to know about them? Do you like game shows but don't know any trivia? If you do then come on down and let's see if you really do and lets have some fun.
Speaking: Karianne Cargill

Category: Gameshow