<!center><!video controls controlsList="nodownload" src="/video/Gameshows.mp4"><!/center><!br> <!center><!img src="/2020/images/menu/review.jpg"><!/center><!br> <!!! ALL-CON LLC>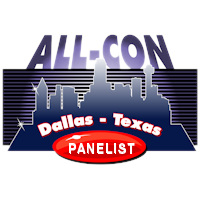 BFG Cosplay

BFG Cosplay

---
FRI 2:00p.m.: Building a Cosplay from IDEA to COSPLAY (45 mins.)

Room: MAPLE (2nd Floor, Back) Rated: Everyone

Produced By: The Mad Titan

Not sure what to build or how to build it? Have an idea but do not know how to turn into a reality? Join Mad Titan Cosplay and several local builders to bounce IDEAs off of them. This is an interactive panel so bring an idea and leave with a plan.
Speaking: Mad Titan Cosplay; BFG Cosplay; Chaks Cosplay; DFW Gambit

Category: Discussion

---
SUN 2:00p.m.: Larger that Life Cosplay (45 mins.)

Room: WILLOW (1st Floor, Front) Rated: Everyone

Produced By: The Mad Titan

Talk with Local cosplayers on making a costume that is LARGER than One Life. Discuss Lifts, Stilts, Muscle Suits, Frames, Foamsmithing, A/C, Safety and best practices when in large costumes. GO BIG or GO HOME... that's our motto.
Speaking: Mad Titan Cosplay; Frostbite Cosplay; BFG Cosplay

Category: Discussion