<!center><!video controls controlsList="nodownload" src="/video/Gameshows.mp4"><!/center><!br> <!center><!img src="/2019/images/menu/review.jpg"><!/center><!br> <!!! ALL-CON LLC>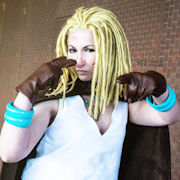 Callula Cosplay

10th Muse and Callula Cosplay are two DFW cosplayers who battle their own illnesses. After years of attending local cons, they've learned how to survive and thrive even when they odds are against them. Now they aim to share their experiences with you.

---
FRI Noon: Beating The Odds -Coping With Physical and Mental Illness At Con (45 mins.)

Room: MAPLE (2nd Floor, Back) Rated: Everyone

Produced By: 10thMuse Cosplay; Callula Cosplay

A panel dedicated to the discussion of those that deal with physical and mental disabilities every day, and how to cope with them during an often chaotic convention.
Topics will include an introduction of the panelists and the challenges they personally face, as well as their coping mechanisms, triggers and how to avoid them, and focusing on strengths. The Spoonie Theory will be touched on, as well as opening the floor to conversation.

We all know the elation of being at a large convention. However there's sometimes an unseen undercurrent of physical and mental illnesses that accompany that joy. Join this panel to discus the realities of going to cons with food allergies, autoimmune disorders, physical limitations, and mental disabilities.
Speaking: 10thMuse; Callula Cosplay

Category: Discussion Panel