<!center><!video controls controlsList="nodownload" src="/video/Gameshows.mp4"><!/center><!br> <!center><!img src="/2020/images/menu/review.jpg"><!/center><!br> <!!! ALL-CON LLC>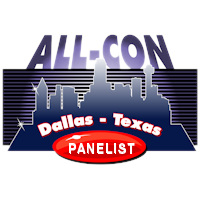 Mad Titan Cosplay

Mad Titan Cosplay

Mad Titan Cosplay / Nick Glover has been prop and costume making since 2013. Nick Spends a lot of his time Volunteering for local cosplay charities, dressing as a superhero or characters and visiting underprivalaged, sick or at risk youth in hospitals, schools and churches. Nicks costumes have been seen in movies, television and theater. Buzz Lightyear and Thanos have both been on news broadcasts. Nick guests at conventions in Texas and Oklahoma and you can see his work all over the southwest. Nick uses many tools and trades at his disposal. He 3d designs and prints, is an EVA foamsmith, builds larger than life costumes, sculpts and fabricates prosthetics and masks, airbrushes, utilize FX makeup techniques, and much more.

Mad Titan Cosplay has won many awards including Best of Show at Dallas Fan Days, Fan Favorite in the Masters of Cosplay Grand Prix and several others as well. Mad Titan Cosplay has personally been featured in magazines and newspapers. MTC has received personal praise on Jeremy Renner and Lexi Rabi's personal social media accounts. There are many more exciting things that MTC is working on as well. MTC has a lot to bring to the table and will be debuting 4 new costumes at ALL-CON 2020.

Instagram:
instagram.com/madtitancosplay

---
THU 4:00p.m.: The Couples Cosplay Game (45 mins.)

Room: OAK BALLROOM (2nd Floor, Left) Rated: Everyone

Produced By: The Mad Titan

Do you know your Cosplayer IN and OUT? Well lets find out. You dont have to be 'together' to be a cosplay team but you should know them. Fun spinoff of the Dating Game!
Speaking: Mad Titan Cosplay; Muppet Rob

Category: Gameshow

---
FRI 2:00p.m.: Building a Cosplay from IDEA to COSPLAY (45 mins.)

Room: MAPLE (2nd Floor, Back) Rated: Everyone

Produced By: The Mad Titan

Not sure what to build or how to build it? Have an idea but do not know how to turn into a reality? Join Mad Titan Cosplay and several local builders to bounce IDEAs off of them. This is an interactive panel so bring an idea and leave with a plan.
Speaking: Mad Titan Cosplay; BFG Cosplay; Chaks Cosplay; DFW Gambit

Category: Discussion

---
SAT Noon: 3D Printing for Cosplay (45 mins.)

Room: WILLOW (1st Floor, Front) Rated: Everyone

Produced By: Chaks Productions; The Mad Titan

3D printing is quickly becoming a popular tool for cosplayers. If you're ready to learn more about 3D printing, or you're wanting to pick up some tips to improve your prints, then this is the panel for you!

Join Charles Poynter of Chaks Productions, Keely Graesser of Mutants, Maidens & Munchkins, Nick Glover of Mad Titan Cosplay and Sean Fields of Project 842 for an open forum panel as they discuss everything from 3D printers to giving a great finish to your 3D printed props.
Speaking: Chaks Cosplay; Keely Graesser; Mad Titan Cosplay; Sean Fields

Category: Discussion

---
SUN 2:00p.m.: Larger that Life Cosplay (45 mins.)

Room: WILLOW (1st Floor, Front) Rated: Everyone

Produced By: The Mad Titan

Talk with Local cosplayers on making a costume that is LARGER than One Life. Discuss Lifts, Stilts, Muscle Suits, Frames, Foamsmithing, A/C, Safety and best practices when in large costumes. GO BIG or GO HOME... that's our motto.
Speaking: Mad Titan Cosplay; Frostbite Cosplay; BFG Cosplay

Category: Discussion