<!center><!video controls controlsList="nodownload" src="/video/Gameshows.mp4"><!/center><!br> <!center><!img src="/2019/images/menu/review.jpg"><!/center><!br> <!!! ALL-CON LLC>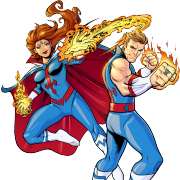 Danny Gallagher

Bacon Samuri

Danny Gallagher (host) is a Dallas-based writer, comedian and emcee who will host Bacon Samurai's Match Game for its fourth consecutive year. He's a regular contributor to the Dallas Observer's arts and culture section and has also written stories, features and original humor for Cracked, Mental_Floss, MTV.com and many others. He also writes and performs in the live, movie mocking comedy show The Mocky Horror Picture Show at Pocket Sandwich Theatre and is a writer and performer with The Folding Chairs sketch show.

Devin Pike has been a staple at pretty much ever Dallas convention and entertainment event you've ever attended where he's hosted panels and live interviews with storied names like Stan Lee, Peter Mayhew and so many he others. He's the founder of Bacon Samurai Productions and the program director for Vokal Radio's Fuzz Box. He's also the creator and executive director of the annual charity telethon Who Needs Sleep that broadcasts for 36 hours to raise money for hospitals and charitable organizations that care and provide comfort for people and families who are fighting cancer.

Website:
www.whoneedssleep.org

Facebook:
facebook.com/10155357148030825

Twitter:
twitter.com/WNSTelethon

Instagram:
instagram.com/wnstelethon

---
FRI 6:00p.m.: Win Devin Pike's Money (45 mins.)

Room: PECAN (2nd Floor, Back) Rated: Teen

Produced By: Bacon Samurai Productions

Moderated By: Devin Pike; Danny Gallagher

Hello. I'm Devin Pike. And this year, I'm going to make ALL-CON history.

I'm putting up THREE HUNDRED DOLLARS of my own money that says that I know more than you.

So, if you're smart enough, fast enough, and if you've got the GUTS... you could WIN DEVIN PIKE'S MONEY.

Three contestants chosen from attendees will compete in the first round of general knowledge trivia questions, hosted by Devin Pike; in the second round, Devin will become a contestant, fighting against the two remaining contestants (along with co-host Danny Gallagher). In the final Round Of Ten, Devin will go head-to-head agains the last contestant standing. Sixty seconds. Will Devin keep his $300 in cash? Or will someone be able to beat him at his own game, and walk away with three hundred smackers?

This is ACTUAL CASH, straight out of Devin Pike's pocket. You will NOT want to miss this.

Category: Game Show

---



SAT 7:00p.m.: Match Game (45 mins.)


Room: PECAN (2nd Floor, Back) Rated: Mature


Produced By: Bacon Samurai Productions


; Danny Gallagher



The hilarious, All-Con game show is returning for its fourth consecutive year because you can never have too much of a good _______! We take the classic game show where contestants try to match their insane answers with a panel of celebrity guests to weird questions like ''Godzilla said, 'I would have destroyed the city of _______ but it looks like somebody beat me to it'' and ''Batman asked Robin, ''Did you clean the bat pole? Because I think it gave me a bat _______.''





Category: Game Show