<!center><!video controls controlsList="nodownload" src="/video/Gameshows.mp4"><!/center><!br> <!center><!img src="/2019/images/menu/review.jpg"><!/center><!br> <!!! ALL-CON LLC>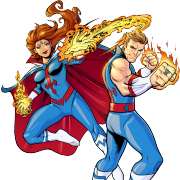 Bobby Blakey

Hollywood Matrimony

Bobby Blakey has been a professional writer and movie reviewer for over 5 ?years providing reviews, articles, and interviews for the Examiner.com, Moosin.net, Stumblebum Studios, and his own comic site: Last Stop Comic. In addition to being a writer, he runs BDG Studios, an art company that produces the comics 'Keepers of the Dawn' and 'Last Stop' that are written and illustrated by Bobby as well as being a ketch card artist for Topps working on properties such as Star Wars, Walking Dead, Garbage Pail Kids and more.

He has a long time passion for film; both watching films and working in films. For years he worked in the independent film industry as an extra, stuntman, fight choreographer and director. This just further fueled his passion for all things related to film and television.

---
SUN 2:00p.m.: Super Hero Sunday (2 hrs.)

Room: OAK BALLROOM (2nd Floor, Left) Rated: Everyone

Produced By: Hollywood Matrimony

Are you ready to join the ranks of the super-heroes? Do you have what it takes beyond just a really flashy costume? And what about the villains? What is a super-hero without a worthy adversary? Then you should compete in Super-Hero Sunday! All you need is a costume and a vision!

To be a part of the contest you will need to register at the BDG Studios table and make sure to line up with the other contestants about 10 minutes before show time so everyone will be ready before the audience arrives and the competition begins. Be in costume and in character! You will be asked an array of questions about your qualifications as a hero or villain. BDG Studios will be giving away prizes while supplies last. No stranger to costuming or the stage herself, BDG Studios co-founder Drusilla will be on hand to host the contest along with a panel of judges.
Speaking: Bobby Blakey

Category: Activity