<!center><!video controls controlsList="nodownload" src="/video/Gameshows.mp4"><!/center><!br> <!center><!img src="/2019/images/menu/review.jpg"><!/center><!br> <!!! ALL-CON LLC>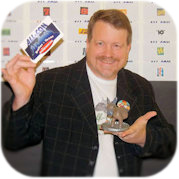 Cole Houston

ALL-CON: Games and Theory

ALL-CON fixture since ALL-CON year one (2005), ''JediCole'' Houston has been a vendor, volunteer, content provider, and department head for the convention over the years that followed. Host of a myriad game shows as well as two annual talk shows, he returns year after year with more fun and surprises.

---
SAT 6:00p.m.: JediCole Universe Live (45 mins.)

Room: ADDISON LECTURE HALL (2nd Floor, Right) Rated: Teen

Produced By: Half-Ass Productions

ALL-CON's other talk show, a retooling of the one-time show ''Fandom at Random DFW Live'' returns to All-Con with more talk show fun! If you feel like you just can't make it to JediCole's Morning After, this is your chance to enjoy some similar antics with lots of audience participation.

There is so much more to JediCole (Group Captain of the Game Shows track at ALL-CON) than Star Wars. Attend The JediCole Universe Live to discover this for yourself with a unique edition of ''It Came From the Dollar Store!'', a mini game show, and even (pending) a surprise guest or two!
Speaking: Cole Houston

Category: Talk Show

---
SAT 10:00p.m.: Rantcor Pit After Dark (45 mins.)

Room: DOGWOOD (2nd Floor, Left) Rated: Adult

Produced By: Half-Ass Productions

For nearly half a decade Cole Houston and Eddie Medina have collectively been The Rantcor Pit. From their audio podcast to their ever-travelling, Dallas based, live-streaming ''The Rantcor Pit Live'' to 2017's The Rantcor Pit Road Show (returning in 2019), chances are you've seen and/or heard ''Your Favorite Star Wars Guys''. But (for the most part) you've never seen them quite like this!

Eddie and Cole are ready to let their hair down (and maybe their pants, but hopefully not) with a special live presentation that will play bluer than Aunt Beru's milk! Yes this is the late night, no-holds-barred, F-bomb dropping Star Wars X-travaganza you've been waiting for! ''The Moist Side of the Force'' is about to get moister than a Tattooine vaperator at harvest time and exclusively at ALL-CON!

If you thought there were uncomfortable moments in The Last Jedi, well... let's just say this show will make Rian Johnson blush!
Speaking: Cole Houston

Category: Talk Show

---
THU 11:00a.m.: What Were You Thinking? Meet the Dept. of Games and Theory (45 mins.)

Room: PECAN (2nd Floor, Back) Rated: Everyone

Produced By: Half-Ass Productions

Moderated By: Cole Houston; Catherine Houston

Start you ALL-CON game show experience with a glimpse behind the curtain.

Group Captain Cole ''JediCole'' Houston of ALL-CON Games and Theory, your game show track, presides over an opportunity to meet some of the folks behind your favorite game shows.

This lively, interactive panel will feature scheduling guru Mrs. JediCole as well as a variety of show producers for 2019. Meet the teams from The JediCole Universe / Half-Ass Productions, In Our Nerdy Opinion, Bacon Samurai, Summer Shine, and more. Discover the creative process, the ups and downs, and challenges behind challenging contestants over the prior 12 years of game shows at ALL-CON.

Keen on joining the Game and Theory team in 2018? Find out how and pick up some tricks of the trade on Thursday.

Category: Game Show

---
THU 2:00p.m.: Don't Lose Your Geek Card (45 mins.)

Room: PECAN (2nd Floor, Back) Rated: Everyone

Produced By: Half-Ass Productions

Moderated By: Cole Houston

ALL-CON's longest running game show returns in 2019!

The ''Classic'' edition of the show that acts as a template for many other Geek Card shows annually pits three contestants against one another in a general pop-culture knowledge quiz show. Each are issued three Geek Cards at the start of the game and are presented with a board of eight categories with five trivia questions each. If a contestant rings in and gives a wrong answer, they lose a Geek Card! In this ''three strikes and you're out'' game, this can spell trouble! But if they get the answer right they earn a point and control of the board. These points are added to the point value of Geek Cards maintained during the game. But if a contestant loses a Geek Card or two, they need not fear! There are Bonus Cards randomly included with questions that act as replacement (or extra) Geek Cards which can be won with a correct answer. There are even randomly placed prize cards that garner special prizes for a correct answer over and above the main prize for the show!

This classic edition of the show will feature trivia derived from movies, television, comics, sci-fi / fantasy literature, music, and other facets of popular culture. Looking for something more specific? Check out the other incarnations of Don't Lose Your Geek Card!

Contestants: Three

Category: Game Show

---
THU 5:00p.m.: Pop Goes ALL-CON (45 mins.)

Room: PECAN (2nd Floor, Back) Rated: Everyone

Produced By: Half-Ass Productions

Moderated By: Cole Houston

Premiering at Infinicon 2016, the lively pop culture trivia game show is back at ALL-CON for its third year running!

Pop Goes ALL-CON encompasses all thing popular culture from movies to television to comics to literature and more, this is the show that has it all! How well do you know the popular culture of the last 20 to 30 years? Eight challenging categories put that knowledge to the test for three lucky contestants. If all things ''pop'' are your ''thing'', then your host Cole ''JediCole'' Houston is ready to bring it to you in one exciting package that could see a great prize going home with you (if you best the other contestants)!

Contestant selection begins at random from audience members who want to take up the challenge within the first five minutes, so be sure to arrive early. Given the scope of the trivia, contestants 18 and over are requested for this show.

Hosts: JediCole Houston and friends
Contestants: Three

Category: Game Show

---
THU 7:00p.m.: Screen Time (45 mins.)

Room: PECAN (2nd Floor, Back) Rated: Everyone

Produced By: Half-Ass Productions

Moderated By: Cole Houston

So many of us live movies. So much so that movie quotes have become something of a second language - the language we share in common with our friends. How steeped are you in famous or popular movie quotes? How about movie trivia? Why not both?

Screen time is part movie trivia, part movie quotes, and all fun. The big twist is that movie quotes are read without inflection or any attempt to imitate the characters or actors. The bulk of points awarded are for correctly identifying the movie, the actor, and/or the character from a movie quote read by the hosts ''as if your grandma was reading the line with no knowledge of the source''. Contestants gain from one to three points per correct identification with recognizing your favorite quotes out of context being the real challenge. Standard trivia and other components round out the game play.

All quotes for the standard edition of Screen Time are certified family friendly, so you can even bring along the kiddos to watch the fun unfold.

Hosted by: JediCole Houston and Friends
Contestants: Three

Category: Game Show

---
FRI 4:00p.m.: Screen Time (45 mins.)

Room: PECAN (2nd Floor, Back) Rated: Everyone

Produced By: Half-Ass Productions

Moderated By: Cole Houston

So many of us live movies. So much so that movie quotes have become something of a second language - the language we share in common with our friends. How steeped are you in famous or popular movie quotes? How about movie trivia? Why not both?

Screen time is part movie trivia, part movie quotes, and all fun. The big twist is that movie quotes are read without inflection or any attempt to imitate the characters or actors. The bulk of points awarded are for correctly identifying the movie, the actor, and/or the character from a movie quote read by the hosts ''as if your grandma was reading the line with no knowledge of the source''. Contestants gain from one to three points per correct identification with recognizing your favorite quotes out of context being the real challenge. Standard trivia and other components round out the game play.

All quotes for the standard edition of Screen Time are certified family friendly, so you can even bring along the kiddos to watch the fun unfold.

Hosted by: JediCole Houston and Friends
Contestants: Three

Category: Game Show

---
FRI 9:00p.m.: Galacticontest – The Battlestar Galactica Trivia Challenge (45 mins.)

Room: PECAN (2nd Floor, Back) Rated: Everyone

Produced By: Half-Ass Productions

Moderated By: Cole Houston

ALL-CON game show hosts Shawn Padilla and Cole Houston offer up a contest for fans of the original Battlestar Galactica! Galactica 1980 is also in the mix of trivia (somebody has to be a fan), as well as a couple of categories covering the newer incarnation of the show. So there is truly a little something for everyone who loves them some Battlestar action!

Challenging trivia questions covering every Galactica version televised will test the knowledge of contestants over eight distinct categories. But wait! There are random Cylon Attacks that bring even more trivia to this show. Are you up to this rag-tag challenge? The winning contestant goes back to their personal Battlestar with a classic Cylon coaster set and a Titanium Series (modern style) Battlestar Galactica!

Contestants: Three

Category: Game Show

---
FRI 11:00p.m.: Onliners (45 mins.)

Room: PECAN (2nd Floor, Back) Rated: Adult

Produced By: Half-Ass Productions

Moderated By: Cole Houston

If you are missing Comedy Central's ''@Midnight'' as much as Half-Ass Productions producer Cole Houston and Hey Kids, Comics! producer Andrew Farmer, this is a show you need to attend!

While it has a game show format, Onliners pits a hand-picked panel of some of the wittiest folks Andy and Cole know going head to head in a pointless competition to come up with the most hilarious answers and observations on all manner of things found on the internet! JediCole is both Executive Producer of Onliners and a panelist in at least one round annually. Original host Andrew Farmer is back with a wide variety of internet-inspired games for the panel which will include the likes of Roy Buckingham (DLYGC Cult Horror Edition) and Danny Gallagher (Match Game).

Points are awarded for cleverly answered questions, but at the end of the day they are meaningless. However, in the final round only two panelists will have the opportunity to vie for the coveted title ''King of All-Con''! There can be only two! (Because there are two shows of Onliners over the weekend.)

Needless to say, this show will be VERY adult-oriented in both language and content. No one under 18 will be admitted.

Category: Exhibition

Category: Game Show

---
FRI Midnight: Screen Time: Rated R (45 mins.)

Room: PECAN (2nd Floor, Back) Rated: Mature

Produced By: Half-Ass Productions

Moderated By: Cole Houston

Like the regular Screen Time, but definitely not ''for the kids''! We assure you, no kids stuff here. Apart from the trivia this show plays it pretty blue and utilizes every curse word in the catalog during game play. NO CHILDREN ALLOWED!

Now that we have that out of the way... The same game, same rules as Screen Time, just with some quotes having various four letter words in the mix (or longer ones that are equally dirty). This edition of Screen Time allows for a broader range of movie quotes and allows the hosts to cuss like sailors. Mature audiences only, please. Yes, the rumors are true, JediCole knows bad words and will use them during both editions of this show.

Contestants: Three

Category: Game Show

---



SAT Noon: Do You Like ''The Star Wars''? (45 mins.)


Room: PECAN (2nd Floor, Back) Rated: Everyone


Produced By: Rantcor Pit


; Cole Houston; Eddie Medina



The Rantcor Pit Live's JediCole will be hosting three unique Star Wars game shows over the weekend and this is certainly one of them! Jedi or Sith, Rebel scum or Imperial agent, moof milker or nerf herder, Outlander, smuggler, bush pilot, or scoundrel all Star Wars fans are invited to watch or participate in a lively Star Wars trivia game that takes the audience from one end of the galaxy to the other! Even your droids are welcome!

Test your trivia knowledge with questions encompassing all eight episodes of the cinematic Saga plus 2018's Solo: A Star Wars Story. Is the Force with you? Do you just plain like ''the Star Wars''? Either way, this is the game show for you!

Contestants: Three





Category: Game Show




---



SAT 3:00p.m.: Don't Lose Your Geek Card: Hey Kids Comics! (45 mins.)


Room: PECAN (2nd Floor, Back) Rated: Everyone


Produced By: Half-Ass Productions


; Cole Houston



You don't have to be familiar with the podcast ''Hey Kids, Comics!'' to play, but it wouldn't hurt. It won't help, either, but show hosts Andrew Farmer and Cole Houston would like to know somebody is listening to their podcast that now has over 300 issues and counting. If you love to read, collect, and enjoy comics, this is the challenging game show you have been looking for, and in the familiar Don't Lose Your Geek Card format.

In keeping with all incarnations of the game, each contestant collects three Geek Cards and faces the big board of trivia questions, in this case based on comics old and new. Each contestant who answers incorrectly loses on of their Geek Cards, lose them all during the game and you have to sit the rest out. But have no fear! Bonus Cards randomly included with some questions can save the day as they are effectively extra Geek Cards. Hidden Prize Cards add extra incentive as correct answers mean extra prizes for lucky contestants. Are you at the local comic shop every Wednesday to get the latest releases?

Points are awarded for every correctly answered question as well as for each Geek Card retained and every Bonus Card earned (and retained). Prize Cards do not add to the point total, but at least there is a nice prize involved! Should comic books not be your cup of tea, check out the other incarnations of Don't Lose Your Geek Card on the schedule.

Contestants: Three
(Contestants and audience members will receive comics from Hey Kids, Comics! Live's infamous ''Short Box'' at the start of the show.)





Category: Game Show




---



SAT 4:00p.m.: The Rantcor Pit Galactic Games VIII (45 mins.)


Room: PECAN (2nd Floor, Back) Rated: Everyone


Produced By: Rantcor Pit


; Cole Houston; Eddie Medina



The premiere game show of ''The Rantcor Pit Live'' is back!

As seen on the live podcast and at Infinicon, ALL-CON, and Famous Monsters Convention, the Galactic Games return to ALL-CON! The whole Rantcorps will be in place to host this dynamic mix of trivia, activities, and other simple tricks and nonsense that pits four Star Wars knowledgeable contestants against one another. This unique game show tests trivia knowledge, character recognition, and other proof of familiarity in a variety of games. Challenges abound that would make a Jedi Master feel like a Padawan!

If you are steeped in the Saga, jolly for Jedi, a Rebellion rouser, silly for Sith, or just plain feel like Star Wars is where it's AT-AT, you need to be a part of this game show - in the audience or among the randomly selected contestants!

Contestants will vie for the first prize, their choice of a a Hasbro Black Series 3.75'' scale AT-ST with AT-ST Driver action figure or a Captain Phasma ARTFX Statue! Prizes will also be awarded to the second, third, and even fourth place contestants of this show.

Contestants: Four





Category: Production




---



SAT 11:00p.m.: Onliners (45 mins.)


Room: PECAN (2nd Floor, Back) Rated: Adult


Produced By: Half-Ass Productions


; Cole Houston



If you are missing Comedy Central's ''@Midnight'' as much as Half-Ass Productions producer Cole Houston and Hey Kids, Comics! producer Andrew Farmer, this is a show you need to attend!

While it has a game show format, Onliners pits a hand-picked panel of some of the wittiest folks Andy and Cole know going head to head in a pointless competition to come up with the most hilarious answers and observations on all manner of things found on the internet! JediCole is both Executive Producer of Onliners and a panelist in at least one round annually. Original host Andrew Farmer is back with a wide variety of internet-inspired games for the panel which will include the likes of Roy Buckingham (DLYGC Cult Horror Edition) and Danny Gallagher (Match Game).

Points are awarded for cleverly answered questions, but at the end of the day they are meaningless. However, in the final round only two panelists will have the opportunity to vie for the coveted title ''King of All-Con''! There can be only two! (Because there are two shows of Onliners over the weekend.)

Needless to say, this show will be VERY adult-oriented in both language and content. No one under 18 will be admitted.

Category: Exhibition





Category: Game Show




---



SAT Midnight: Screen Time: Rated R (45 mins.)


Room: PECAN (2nd Floor, Back) Rated: Mature


Produced By: Half-Ass Productions


; Cole Houston



Like the regular Screen Time, but definitely not ''for the kids''! We assure you, no kids stuff here. Apart from the trivia this show plays it pretty blue and utilizes every curse word in the catalog during game play. NO CHILDREN ALLOWED!

Now that we have that out of the way... The same game, same rules as Screen Time, just with some quotes having various four letter words in the mix (or longer ones that are equally dirty). This edition of Screen Time allows for a broader range of movie quotes and allows the hosts to cuss like sailors. Mature audiences only, please. Yes, the rumors are true, JediCole knows bad words and will use them during both editions of this show.

Contestants: Three





Category: Game Show




---



SUN 9:00a.m.: JediCole's Morning After (45 mins.)


Room: PECAN (2nd Floor, Back) Rated: Teen


Produced By: Half-Ass Productions


; Cole Houston



Created a decade ago (at the least) in answer to the lack of early Sunday morning programming, ALL-CON's longest running talk show is back! To make it worth sleepy, hung-over, and otherwise worn out ALL-CON attendees efforts to wake up early on Sunday morning JediCole brings the fun in the A.M. with all kinds of laughs and surprises. Get over that hang over from Saturday night, drag yourself to the Pecan Room at 9 AM on Sunday, and join in on the annual antics!

Cole ''JediCole'' Houston brings aspects of The JediCole Universe Live to Sunday morning, along withsome new surprises. JediCole's Morning After is not so much a panel as just a gathering place for early birds. There will be laughs and fun and if all goes well, maybe even a special guest or two! Plus another episode of ''It Came From the Dollar Store!'' with brand new $1 finds!

JediCole and friends will be looking for YOU on Sunday morning!





Category: Talk Show




---



SUN 10:00a.m.: Screen Time (45 mins.)


Room: PECAN (2nd Floor, Back) Rated: Everyone


Produced By: Half-Ass Productions


; Cole Houston



So many of us live movies. So much so that movie quotes have become something of a second language - the language we share in common with our friends. How steeped are you in famous or popular movie quotes? How about movie trivia? Why not both?

Screen time is part movie trivia, part movie quotes, and all fun. The big twist is that movie quotes are read without inflection or any attempt to imitate the characters or actors. The bulk of points awarded are for correctly identifying the movie, the actor, and/or the character from a movie quote read by the hosts ''as if your grandma was reading the line with no knowledge of the source''. Contestants gain from one to three points per correct identification with recognizing your favorite quotes out of context being the real challenge. Standard trivia and other components round out the game play.

All quotes for the standard edition of Screen Time are certified family friendly, so you can even bring along the kiddos to watch the fun unfold.

Hosted by: JediCole Houston and Friends
Contestants: Three





Category: Game Show




---



SUN 2:00p.m.: Oooh! Oooh! Oooh! (with Grand Prize Drawing) (45 mins.)


Room: PECAN (2nd Floor, Back) Rated: Everyone


Produced By: Half-Ass Productions


; Cole Houston; Catherine Houston



Just like Thursday's edition, ''the game show where the entire audience are contestants'' boasts over 50 prizes! If you have ever been in the audience of an ALL-CON game show and felt that unbearable urge to yell out the answer that the contestants struggle to conjure up, this is the show for you! The big difference is that after the show, Half-Ass Productions will be drawing for this year's ALL-CON Grand Prize, an Air Hogs Star Wars Star Destroyer Remote Controlled Drone! A $109.00 value!

If you are in the audience, you are part of the show and could win one of the myriad prizes (valued from $1 to $5 for the most part). Be a part of ALL-CON's biggest trivia contest and feel free to yell ''Oooh! Oooh! Oooh!'' when you know the answer! Don't forget to bring all of the Grand Prize tickets you have amassed all day or all weekend to get in on the drawing at the end of the show!

Contestants: Variable





Category: Game Show




---



SUN 3:00p.m.: It's a Wrap! (45 mins.)


Room: PECAN (2nd Floor, Back) Rated: Everyone


Produced By: Half-Ass Productions


; Cole Houston; Catherine Houston



Your Favorite Con is drawing to a close after an amazing four full days. You've attended panels, game shows, parties, costume contests, and gaming events. You've met some great celebrity guests and heard amazing tales in their panels. You've taken in the scope of fandom and have plenty of goodies, photos, and memories.

While all good things must come to an end, following Games and Theory's annual Grand Prize Drawing (as part of Sunday's "Oooh! Oooh! Oooh!") there's still fun to be had at the ''It's a Wrap!'' panel! ALL-CON Games and Theory's own JediCole and Happy Cat, along with any of the staff still remaining on site bring you an interactive post-convention wraipup. When the last game show has awarded its prizes and a lot of leftover stuff has been given away in raffles, the fun continues as the exhausted crew share the highlights and laughs from the long weekend they looked forward to since last year.

This panel has become a favorite end-of-convention haunt for many who are looking for a chance to share their own experiences with a casual crowd. Close out the weekend in style with the kids from the Game Shows track and friends!





Category: Activity