<!center><!video controls controlsList="nodownload" src="/video/Gameshows.mp4"><!/center><!br> <!center><!img src="/2021/images/menu/review.jpg"><!/center><!br> <!!! ALL-CON LLC>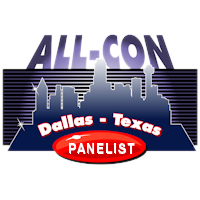 Nick Messer

---
FRI 1:00 PM: World Building (45 mins.)

Room: MONARCH (Lincoln, Lower) Rated: Everyone

Produced By: Mad Raven Productions [A01]

The world we live in molds us and makes us. So, how do you make the world that molded and made your character? Basis of world building explained. How in-depth do you need to get and how much hand waving can you get away with?
Speaking: Nick Messer; Jim Trent

Category: Discussion

---
FRI 6:00 PM: Character Creation (45 mins.)

Room: MONARCH (Lincoln, Lower) Rated: Everyone

Produced By: Mad Raven Productions [A01]

Need to develop new characters for your project but you're stumped? This panel will cover the basics of how to create a character for role play, cosplay or writing.
Speaking: Nick Messer; Jim Trent

Category: Discussion