<!center><!video controls controlsList="nodownload" src="/video/Gameshows.mp4"><!/center><!br> <!center><!img src="/2021/images/menu/review.jpg"><!/center><!br> <!!! ALL-CON LLC>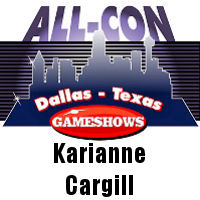 Karianne Cargill

Rogue One

Karianne Cargill
Rogue One

More than just a pretty face in the crowd, Karianne was a constant at All-Con game shows before joining the Games and Theory family. Departing the audience for the stage she was initially part of the Animagic team before spinning off to produce game shows of her own. When not producing or running shows...well, you can usually find her back in the audience as one of the tracks most enthusiastic fans!

---
SAT 1:00 PM: Family Feud Convention Edition (45 mins.)

Room: LANTANA I (Breezeway) Rated: Everyone

Produced By: Rogue One

Moderated By: Karianne Cargill

Do you enjoy going to cons? Do you think you know everything there is to know about them? Do you like game shows but don't know any trivia? If you do, then come on down and let's see if you really do, and let's have some fun.
As with all game shows, get there early to get in on the potential contestant pool. Some game shows have a pre-show qualifying quiz and contestants are chosen at random from the contestant pool.

Category: Game Show