<!center><!video controls controlsList="nodownload" src="/video/Gameshows.mp4"><!/center><!br> <!center><!img src="/2019/images/menu/review.jpg"><!/center><!br> <!!! ALL-CON LLC>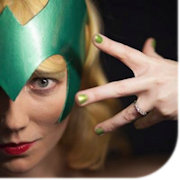 Valerie

CosPod Cosplay

The name is Valerie, but I cosplay and game under TifaIA. I got into cosplay as a rebellion against the Halloween wall of skin. It was so much fun making my own costume that I didnít want to stop. For me cosplay is an artistic way to show my fandom. I was never big on fanfics. I can barely draw stick figures. But sewing and embroidery has always been an easy task for me.

Facebook:
www.facebook.com/TifaIACosplay

Website:
www.cospod.org

---
SAT 3:00p.m.: Cosplay Check-In and Line-Up (1 hr.)

Room: DOGWOOD (2nd Floor, Left) Rated: Everyone

Produced By: Cospod

Cosplay contest entries... check in here, and line up for show time! Meet in the Malachite Showroom promptly to check in, receive instructions, and prepare to compete.
Speaking: Amber; Valerie

Category: Competition

---
SAT 5:00p.m.: Cosplay Contest (2 hrs.)

Room: OAK BALLROOM (2nd Floor, Left) Rated: Everyone

Produced By: Cospod

The Cosplay Contest is an event for cosplayers to feature their costumes and for attendees to relax and watch some amazing cosplay. Cosplayers can choose between a walk-on and a skit for their performance. Cosplayers of all ages are welcome to join in on this fantastic and fun show!

All content must be PG-13 and conform to the convention's rules regarding costumes and props. At least 50% of your costume must be constructed by you. Characters must be a pre-existing property from movies, television, anime, comic book, etc. No original characters at this time - Gijinkas are allowed.

Full rules should be read here prior to applying: www.ALL-CON.net/cosplay.html.
Speaking: Amber; Valerie

Category: Competition