<!center><!video controls controlsList="nodownload" src="/video/Gameshows.mp4"><!/center><!br> <!center><!img src="/2021/images/menu/review.jpg"><!/center><!br> <!!! ALL-CON LLC>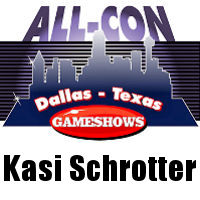 Kasi Schrotter

Bacon Samurai

Kasi Schrotter
Bacon Samurai

Kasi and Zach Schrotter comprise Team Doom! Under the banner of Bacon Samurai, this marital bar trivia team gone bad will be hosting this year's return of 20 Sided Trivia, and debuting the new game Novel Adaptations for anyone who ever thought the Book was better than the Movie. Their motto: If it's a game show hosted by us—it must be DOOMED!

---
SAT 3:00 PM: Novel Adaptations (45 mins.)

Room: LANTANA I (Breezeway) Rated: Everyone

Produced By: Bacon Samurai Productions

Moderated By: Kasi Schrotter; Zach Schrotter

Do you watch a movie and say things like: ''Wait, that wasn't in the book!'' Do you still have your 6th grade library card next to your Blockbuster card because you can't let either of them go? Were you screaming at your TV at the end of Game of Thrones because that's not how George RR Martin would have ended it? (Okay, we were all doing that.) If so, this is the game show for you! Come test your knowledge about literature so good, they had to make a film about it. We promise, this has a better ending than either version of Stephen King's IT.

Category: Game Show