<!center><!video controls controlsList="nodownload" src="/video/Gameshows.mp4"><!/center><!br> <!center><!img src="/2019/images/menu/review.jpg"><!/center><!br> <!!! ALL-CON LLC>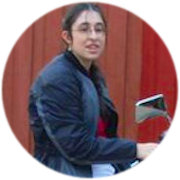 Amber

CosPod Cosplay

I've been sewing for about 16 years and cosplaying nearly that long as a hobbyist; I do work full time at a mundane job, and I'm a part-time symphony musician on the side. (It helps finance my cosplay hobby.) I tend to gravitate towards the anime and fantasy genres, mostly because I'm rather fond of sorcerers, elves, and magical girls. Most of the time, my ambition is greater than my talent, haha. I have won a couple of awards in competition, and I'm constantly pushing to improve my skills. As far as podcasting goes though, I actually prefer being the power behind the throne, not the person sitting on it.

DeviantArt:
celyddon.deviantart.com

Website:
www.cospod.org

---
SAT 3:00p.m.: Cosplay Check-In and Line-Up (1 hr.)

Room: DOGWOOD (2nd Floor, Left) Rated: Everyone

Produced By: Cospod

Cosplay contest entries... check in here, and line up for show time! Meet in the Malachite Showroom promptly to check in, receive instructions, and prepare to compete.
Speaking: Amber; Valerie

Category: Competition

---
SAT 5:00p.m.: Cosplay Contest (2 hrs.)

Room: OAK BALLROOM (2nd Floor, Left) Rated: Everyone

Produced By: Cospod

The Cosplay Contest is an event for cosplayers to feature their costumes and for attendees to relax and watch some amazing cosplay. Cosplayers can choose between a walk-on and a skit for their performance. Cosplayers of all ages are welcome to join in on this fantastic and fun show!

All content must be PG-13 and conform to the convention's rules regarding costumes and props. At least 50% of your costume must be constructed by you. Characters must be a pre-existing property from movies, television, anime, comic book, etc. No original characters at this time - Gijinkas are allowed.

Full rules should be read here prior to applying: www.ALL-CON.net/cosplay.html.
Speaking: Amber; Valerie

Category: Competition