<!center><!video controls controlsList="nodownload" src="/video/Gameshows.mp4"><!/center><!br> <!center><!img src="/2018/images/menu/review.jpg"><!/center><!br> <!!! ALL-CON LLC>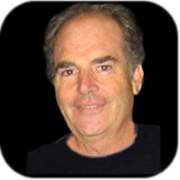 Celebrity Guest

David Ankrum
40 years after voicing Wedge in Star Wars, David was asked to reprise his role in ROGUE ONE by Matthew Wood and Lucasfilm. You can't miss him as the PA announcer on Yavin - redirecting the Rebel Squadron into the crucial battle on Scarif. Ankrum was originally cast by Fred Roos and George Lucas to voice Wedge Antilles (Red 2) in Star Wars: A New Hope. David dubbed the voice of Scottish Actor Denis Lawson who played the physical role in the film.

He seemed to be in every Science Fiction Film with the word ''Mars'' in the title. ''Flight To Mars'' ''Invaders From Mars'' where he played Colonel Fielding, ''Red Planet Mars''. He also protected the Earth from giant locusts in ''Beginning Of The End''. Got sapped by Martians in ''Earth vs. The Flying Saucers''. David also grew up across the street from Dennis Muren. They made films in Dennis's garage when they were childhood friends. Dennis went on to work on Star Wars where he brought his special effects genius to light.

Some of David's other acting highlights were playing Adam Stephens opposite Lisa Hartman in the series ''Tabitha'', starring with Melanie Griffith in a sold TV series that never aired, ''Coast To Coast'' for NBC. Working with director Lasse Hallstrom as the lead in a TV Pilot ''The Big Five'' for NBC... Oh and not to forget throwing John Boy off a bridge on John Boy's first day of college in ''The Waltons''.


---
FRI 4:00p.m.: Celebrity Q&A: Star Wars Pilot Reunion (45 mins.)

Room: MAIN STAGE: MALACHITE SHOWROOM [Lobby Level] Rated: Everyone

Produced By: Angus MacInnes; John Morton; David Ankrum

Category: Discussion Panel

---
SAT 2:00p.m.: Celebrity Q&A: Star Wars Pilot Reunion (45 mins.)

Room: BEL-AIR 2/3 [Lobby Level] Rated: Everyone

Produced By: Angus MacInnes; John Morton; David Ankrum

Category: Discussion Panel