<!center><!video controls controlsList="nodownload" src="/video/Gameshows.mp4"><!/center><!br> <!center><!img src="/2018/images/menu/review.jpg"><!/center><!br> <!!! ALL-CON LLC>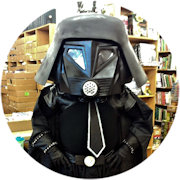 Content Partner

DFW Fan Force
The FanForce is a non-official Star Wars fan club in Dallas/Ft. Worth, Texas. DFW FanForce is a community and resource for every kind of Star Wars fan in North Texas. We host regular fan club meetings, RPG games, attend and help out with local conventions, as well as other special activities, events and trips.

---
SAT 1:00p.m.: Ms. Star Wars XIV (2 hrs.)

Room: MAIN STAGE: MALACHITE SHOWROOM [Lobby Level] Rated: Everyone

Produced By: DFW Fan Force

Moderated By: Jeff Hendrickson
What men really want are girls who are into Star Wars! Guys like girls who can hold their own in a blaster fight, who enjoys dancing like a Twi'lek, and who will disguise themselves as a bounty hunter in order to save their man. This is a creative fandom competition, costumes are not required. Registration at the door.

Category: Competition