<!center><!video controls controlsList="nodownload" src="/video/Gameshows.mp4"><!/center><!br> <!center><!img src="/2018/images/menu/review.jpg"><!/center><!br> <!!! ALL-CON LLC>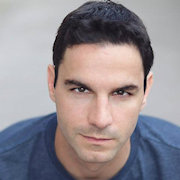 Celebrity Guest

Derek Arnold
Fans of the Star Wars galaxy are in for a treat at Infinicon, meeting Derek Arnold. Mr. Arnold is a puppeteer and actor who worked as a creature and droid performer in Star Wars: Episode VII The Force Awakens.

He portrayed the Luggabeast (along with Tom Wilton), Vober Dand, and Lanever Villecham in The Force Awakens. In Rogue One he saw action as the commando Pao fighting on the beach during the Battle of Scarif.

Mr. Arnold's work can also be seen in the film Fantastic Beasts and Where to Find Them along with the the 2017 sci-fi thriller, Life.

Off screen, he was part of the team that puppeteered Lord Voldemort in the opening ceremony of the 2012 London Olympics and a puppeteer for Joey the horse in the production of War Horse in the London West End.

---
FRI 1:00p.m.: Celebrity Q&A: Star Wars - The Set Today (45 mins.)

Room: MAIN STAGE: MALACHITE SHOWROOM [Lobby Level] Rated: Everyone

Produced By: Derek Arnold

Category: Discussion Panel

---
SAT 4:00p.m.: Celebrity Q&A: Star Wars - The Set Today (45 mins.)

Room: LALIQUE I [Ballroom Level] Rated: Everyone

Produced By: Derek Arnold

Category: Discussion Panel