<!center><!video controls controlsList="nodownload" src="/video/Gameshows.mp4"><!/center><!br> <!center><!img src="/2018/images/menu/review.jpg"><!/center><!br> <!!! ALL-CON LLC>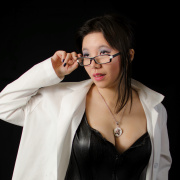 Hana Li

Having lab tech-ed her way through striptease school, Hana Li brings a nerdy and often-androgynous twist to the Dallas burlesque scene. She is a co-producer of the Tuesday Tease Queer Variety Show and has a drag king clone named Tony Fo-Hawk.

Website:
hanaliburlesque.blogspot.com

Facebook:
facebook.com/hanaliburlesque

---
FRI 10:00p.m.: History of Burlesque Continued (45 mins.)

Room: LALIQUE I [Ballroom Level] Rated: Adult

This panel is a continuation of the popular History of Burlesque panel with a focus on the events that lead to burlesque today. We'll go over how strip clubs contributed to burlesque's demise and subsequent revival and discuss role of Burlesque Hall of Fame and the Miss Exotic World Pageant. Learn about a modern legends like the Pontani Sisters, Michelle L'amour, and of course Dita Von Teese and how performance art, drag, and even cosplay has allowed burlesque to evolve into many different forms.
Speaking: Hana Li

Category: Discussion Panel

---
SUN 11:00a.m.: Drag Beyond RuPaul (45 mins.)

Room: LALIQUE I [Ballroom Level] Rated: Adult

RuPaul's Drag Race has captivated audiences for many seasons, but what is it really like being a drag queen? How about drag kings? Hear from some local drag performers as they answer the questions you've always wanted to ask, talk about the shows they frequently appear in, and maybe give you some pointers on how to get started.
Speaking: Hana Li; Randy D'Hardness; Stefani Mikyles; Kylee Fatale; Ben Dover

Category: Discussion Panel