<!center><!video controls controlsList="nodownload" src="/video/Gameshows.mp4"><!/center><!br> <!center><!img src="/2018/images/menu/review.jpg"><!/center><!br> <!!! ALL-CON LLC>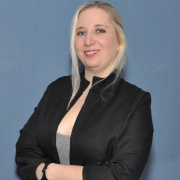 Angelle Bellard

Ladies of the Legions

Getting her start in 2007, Angelle Bellard of Skruffy Studios is a longtime member of the Texas cosplay and costuming community. She joined the Rebel Legion and the 501st Legion in 2009. She has 3 costumes in each of the clubs and helped her husband with his multitude of costumes. She has been involved over the years as 501st Squad XO for South Texas Squad and is a founding member of the Ladies of the Legion.

Website:
www.ladiesofthelegions.com

Facebook:
www.facebook.com/groups/341692229360888

---
SAT Noon: Ladies of the Legions (45 mins.)

Room: MAIN STAGE: MALACHITE SHOWROOM [Lobby Level] Rated: Everyone

Produced By: Ladies of the Legions

Star Wars Costuming for Women, including 501st, Rebel and Mando type costumes. We will also discuss female specific costuming issues such as costuming as a male character, how to make armor fit female body shape, etc.
Speaking: Jennifer Angel; Angelle Bellard; Kameron Earles; Desiree Rodrigue

Category: Discussion Panel