<!center><!video controls controlsList="nodownload" src="/video/Gameshows.mp4"><!/center><!br> <!center><!img src="/2018/images/menu/review.jpg"><!/center><!br> <!!! ALL-CON LLC>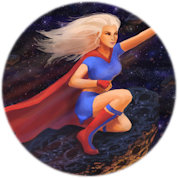 DeeRich

MCubed Cosplay and DeeRich are professional cosplayers, traveling to cons all over the country for over 3 years. They were guests at Anime North Texas and where they attended a Voice Actors After Dark panel and fuond it to be very fun. They decided that Cosplayers After Dark would be really fun, and people would want to be involved.

---
SAT 9:00p.m.: Cosplayers After Dark (2 hrs.)

Room: BEL-AIR 2/3 [Lobby Level] Rated: Adult

Warning! The following panel is not for the feint of heart! We'll answer your most interesting NWFS questions, serve up a no holds barred random romp of discussion and frivolity, and just maybe a life scaring memory or two. The side effects of this panel are known to cause hilarity, nausea, and uncontrolled fits of laughter. Come join us as we watch a free for all train wreck happen before your very eyes! MUST BE 18+ OR OLDER.
Speaking: Mcubed Cosplay; DeeRich

Category: Activity