<!center><!video controls controlsList="nodownload" src="/video/Gameshows.mp4"><!/center><!br> <!center><!img src="/2018/images/menu/review.jpg"><!/center><!br> <!!! ALL-CON LLC>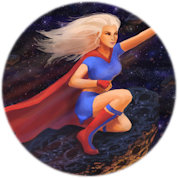 Rebecka Hunt

Heroic Inner Kids

---
THU 3:00p.m.: Kid's Closet Cosplay (45 mins.)

Room: COLONNADE A/B [Ballroom Level] Rated: Everyone

Produced By: Heroic Inner Kids

How do you keep a kid in costume without breaking the bank? It is GREAT they share your love but how does a parent keep up woth the high demand to be the coolest kid at the con when you know they will outgrow the costume in a short time? Where do you fin time to build a costume cheaply? Make up just comes off, masks are hard to see through and what about bathroom breaks?! HELP!!!!

Well there is no one fits all answer but there IS help out there between parents and sometimes in your own closet. Sometimes hotglue, a bit of creativity and a little know how go toward a decent costume that will last long enough for this week's character or at least until your next paycheck.
Speaking: Robert Goodrick; Daniel Sanchez; Leah Bocanegra; David Arroyo; Rebecka Hunt

Category: Discussion Panel

---
FRI 9:00p.m.: OMG You're OLD! (45 mins.)

Room: BEL-AIR 2/3 [Lobby Level] Rated: Mature

Produced By: Heroic Inner Kids

Do you feel like you can't up with the pretty young girls so you are stuck playing the old maid?Are you concerned that instead of dashing older gentleman you might be taken for grumpy old grandpa? Maybe you are interested in trying and feel, ''Nah, I'm just TOO old for this.'' Maybe you started cosplaying when you weren't the youngest kid on the block, but guess what... that is OKAY!!!! There is no miracle cure for age but who said you can't have fun? People are growing to be quite open in a time when cosplayers are making themselves into all sorts of characters. If a character can be loved for being furry, blue, and mutated then it may be possible wrinkles are of no concern!

After almost 30 years of costuming/cosplay Rebecka may have some hints to help!
Speaking: Rebecka Hunt; Robert Goodrick

Category: Discussion Panel

---
SAT 2:00p.m.: Mom, Dad, I'm a Cosplayer. (7 hrs.)

Room: BEL-AIR 5 [Lobby Level] Rated: Teen

Produced By: Heroic Inner Kids

Do you get the dismissive attitude toward your hobby? Do you have people who don't understand why you do it? Well guess what? There is actually scientific data to back up benefits to cosplay as a hobby! There are psychological documents now being presented on the hobby of cosplay and what it brings to individuals. So come learn how you can come out of the cosplay closet in a well-spoken manner. Learn about ways you can speak to how your skills cross platforms in day to day life and the benefits it gives you. While you are at it you may even learn a bit about why you find such a love for the hobby itself and how you can use these skills in other areas!
Speaking: Rebecka Hunt

Category: Discussion Panel

---
SUN 10:00a.m.: Special Needs and Service Cosplay (45 mins.)

Room: BEL-AIR 4 [Lobby Level] Rated: Everyone

Produced By: Heroic Inner Kids

Cosplay is more special than most people realize. Ever wonder how people are impacted by the special needs community and cosplay interaction in hospitals, homes and more? There is a magic that occurs, a breaking of barriers between people that happens when suddenly all things become possible. All at once kids who can't see become able to see into people's hearts, kids who can't walk can fly and those who are small become larger than life!

It is in those moments when people in costumes become real life heroes. Listen to the stories of what those magical heroes found within themselves as they wore their cosplay and how it changed them forever.
Speaking: Robert Goodrick; Daniel Sanchez; Leah Bocanegra; David Arroyo; Rebecka Hunt

Category: Discussion Panel