<!center><!video controls controlsList="nodownload" src="/video/Gameshows.mp4"><!/center><!br> <!center><!img src="/2018/images/menu/review.jpg"><!/center><!br> <!!! ALL-CON LLC>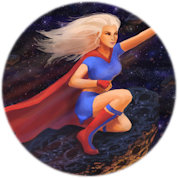 Daniel Sanchez

---
THU 3:00p.m.: Kid's Closet Cosplay (45 mins.)

Room: COLONNADE A/B [Ballroom Level] Rated: Everyone

Produced By: Heroic Inner Kids

How do you keep a kid in costume without breaking the bank? It is GREAT they share your love but how does a parent keep up woth the high demand to be the coolest kid at the con when you know they will outgrow the costume in a short time? Where do you fin time to build a costume cheaply? Make up just comes off, masks are hard to see through and what about bathroom breaks?! HELP!!!!

Well there is no one fits all answer but there IS help out there between parents and sometimes in your own closet. Sometimes hotglue, a bit of creativity and a little know how go toward a decent costume that will last long enough for this week's character or at least until your next paycheck.
Speaking: Robert Goodrick; Daniel Sanchez; Leah Bocanegra; David Arroyo; Rebecka Hunt

Category: Discussion Panel

---
SUN 10:00a.m.: Special Needs and Service Cosplay (45 mins.)

Room: BEL-AIR 4 [Lobby Level] Rated: Everyone

Produced By: Heroic Inner Kids

Cosplay is more special than most people realize. Ever wonder how people are impacted by the special needs community and cosplay interaction in hospitals, homes and more? There is a magic that occurs, a breaking of barriers between people that happens when suddenly all things become possible. All at once kids who can't see become able to see into people's hearts, kids who can't walk can fly and those who are small become larger than life!

It is in those moments when people in costumes become real life heroes. Listen to the stories of what those magical heroes found within themselves as they wore their cosplay and how it changed them forever.
Speaking: Robert Goodrick; Daniel Sanchez; Leah Bocanegra; David Arroyo; Rebecka Hunt

Category: Discussion Panel