<!center><!video controls controlsList="nodownload" src="/video/Gameshows.mp4"><!/center><!br> <!center><!img src="/2018/images/menu/review.jpg"><!/center><!br> <!!! ALL-CON LLC>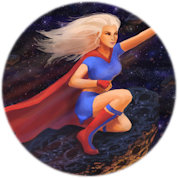 Ashley Scoggins

Miss Hopper Designs

Ashley got her start as a costume designer for her college theater department and has used those skills to create cosplay for herself and her daughter, as well as start her own fashion and costume design company. You can find more of her work at Miss Hopper Designs.

Website:
www.misshopperdesigns.com

Facebook:
www.facebook.com/MissHopperDesigns

---
FRI 3:00p.m.: Cosplaying with Kids (45 mins.)

Room: BEL-AIR 1 [Lobby Level] Rated: Everyone

Produced By: Mutants, Maidens and Munchkins Cosplay; Heroic Inner Kids

Is your kid's dress up closet overflowing? Do their Halloween costumes put the neighborhood kids to shame? Then you might have a budding cosplayer on your hands!

Come learn helpful hints to making kids' costumes on a budget (after all they grow out of them quickly!) and how to face the challenges of being a ''cosplay mom / dad.''

We'll cover the differences in making costumes for adults vs kids (ie: more limited sizes, smaller budgets, more comfortable costumes) and share some of our favorite local kid costumes.
Speaking: Keely Graesser; Ty Randolph; Anna Hubbard; Ashley Scoggins

Category: Discussion Panel