<!center><!video controls controlsList="nodownload" src="/video/Gameshows.mp4"><!/center><!br> <!center><!img src="/2018/images/menu/review.jpg"><!/center><!br> <!!! ALL-CON LLC>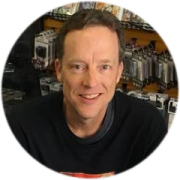 Brett Weiss

Fort Worth native Brett Weiss has been a professional writer for more than 20 years. He's the author of nine books: Encyclopedia of KISS, How to Get Published: 50 Successful Query Letters; The 100 Greatest Console Video Games: 1977-1987; Retro Pop Culture A to Z: From Atari 2600 to Zombie Films; The Arcade and Other Strange Tales; Classic Home Video Games 1972-1984; Classic Home Video Games 1985-1988; Classic Home Video Games 1989-1990; and The SNES Omnibus: The Super Nintendo and Its Games, Vol. 1 (A-M). In addition, Weiss has written more than 1500 articles for such publications as The Writer, the Fort Worth Star-Telegram, the Miami Herald, the Sacramento Bee, the Charlotte Observer, Mystery Scene, AntiqueWeek, Antique Trader, Fangoria, Filmfax, Game Informer, Video Game Trader, Classic Gamer Magazine, the Comics Buyer's Guide, Toy Shop, Toy Cars & Models, Back Issue magazine, Alter Ego, Robot magazine, and Native Peoples, among many others. Weiss also has a national monthly column in AntiqueWeek called The Pop Culture Collective.

Website:
www.brettweisswords.com

Facebook:
www.facebook.com/BrettWeissCHVG

Twitter:
twitter.com/BrettWeissCHVG

Instagram:
www.instagram.com/brettweissretrogamer

Amazon:
www.amazon.com/Brett-Weiss/e/B001JS0BCO

---
FRI 1:00p.m.: How to Get Your Articles and Books Published (45 mins.)

Room: COLONNADE A/B [Ballroom Level] Rated: Everyone

Produced By: Brett Weiss

As a professional writer for more than 20 years, Brett Weiss has published nine books and more than 1,500 articles. In his panel, How to Get Your Articles and Books Published, he will reveal what you need to know to get your work professionally published. Weiss will save you time and help you avoid the pitfalls many people fall into when trying to get their work to appear online and in print. A Q&A and book signing will be included.
Speaking: Brett Weiss

Category: Discussion Panel