<!center><!video controls controlsList="nodownload" src="/video/Gameshows.mp4"><!/center><!br>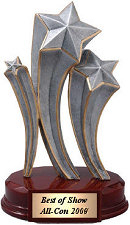 ALL-CON's costume competition will take place on Friday evening. The top two winners in every category will receive a trophy.

The competition provides an organized venue for individuals in costume to showcase their talents and efforts with a large number of attendees in a fun and friendly environment. The event is designed to show off sewing, creativity, or craftsmanship skills in the competitors community of choice.

Anime, Sci-Fi, Fantasy, Fashion, Cultural, and Period costumers, bring your best for your chance win! Grand Champion and Reserve Champion will also be awarded.

The Registration sign-up computer will be set up at convention starting Thursday. (Convention badge is required to compete.) The number of entries is limited, so don't delay!

Questions about the operation or judging should be sent to: Info@All-Con.net.
Costume Categories
•
2D (comics / animation / CG)
•
Mech / Robot
•
Anime / Manga / JPop
•
Monstor / Horror
•
Science Fiction
•
Steampunk
•
Fantasy
•
Creative Casual
•
Hand Sewn
•
Children (12 and under)
•
Historical / Period
2D Costumes
Costumes based on or representing creatures, characters, or objects which only exist in a 2D art format such as comics, animation or computer generation formats.

Kenny from SouthPark, Scooby Doo, Poke'Mon, Nintendo's "Super Mario" or any other video game characters fall into this category.

Anime / Manga / JPop Costumes
Manga and Anime are specific styles of art and animation developed in Japan, characterized by stylized colorful art, futuristic settings, violence, and sex.

Competitors in this category should bring a color picture reference of their character copied from a primary source (manga, magazine, screen capture, etc.) at least 5"x7" in size. For best scoring, the judges need to see what the official version of the character looks like.

Science Fiction Costume Category
Costumes based on or representing creatures, characters, or objects from science fiction based television, film, theater, or novels.

Fantasy Costumes
Dragons, Faires, Elves, Trolls, or any storybook or chracaters of legend would be examples of this category. Note: In this competition Fantasy does not refer to sexually suggestive or explicit costumes.

Historical / Period Costume Category
Costumes based on styles of specific historical eras or events.

Uniforms, actual or replica, of any modern or active military are not considered costumes and will not be eligible for entry. Uniforms from any historical military must be crafted replicas, or they do not meet the criteria of a "costume" for competition.

Monster / Horror Costumes
Traditionally this category has been the focus of make-up artists more than crafters and costumers who sew. Such entries, along with the traditional costuming entries, are equally welcome and often inspirational to admire.

Humor / Parody Costume Category
Costumes which are solely designed to entertain or over-exaggerate.

Impersonators, appearing in either humorous or sincere roles, also fall into this category.

Creative Casual Costume Category
In the spirit of community fun, All-Con has opened a new category for the general public of traditionally non-costumers to participate in the competition on equal footing.

Many youth and adults have their own favorite costumes assembled for Halloween parties, masquerades, or Mardi Gras; or enjoy the creativity of costuming without ever have ventured into a competition. This category levels the field to allow casual costumers to participate without having to compete directly against experienced costumers in the above categories.

The untapped creativity of casual costumers often reveals ingenuity, insight, and range of idea that is not possible in the more theme restrictive categories.

Children's Open
Children age 12 and under are encouraged to become excited about costuming and active in the convention community. This category is a wonderful opportunity for them to develop a stage presence while showing off their favorite costume.
The Costume Contest Rules
| | |
| --- | --- |
| • | All participants and must be registered in advance of the event. |
| • | No store-bought or rented costumes will be eligible to participate. Contestants must appear in some form of legitimate costume. Event staff reserves the right to determine what actually constitutes a legitimate costuming effort. No nudity allowed - "no costume" is not a costume. |
| • | Store bought props and/or pieces are allowed. What goes on the stage with you, comes off the stage with you. |
| • | This is a costumer's competition. ("Off the rack" costumes are likely to score low.) |
| • | Each participant must show his or her costume on stage at the Costume Contest in "catwalk" style. A model may wear your costume if you don't want to physically enter. State that the person wearing the costume is a model, and not the creator, on your registration form. |
| • | You may enter as a group. For a winning group there will only be one prize, and the group leader gets it. Please keep that in mind when entering and registering. |
| • | Stage Fighting: Any sort of stage fighting is to be limited to half speed-quarter strength, and one foot must remain on the floor at all times. (No jumps, leaps, flips or rolls!) |
| • | On stage time will be limited to 30 seconds. Make sure that you pick a couple of poses to strike while on stage. You'll want to make sure that the cameras can catch you! |
| • | A single microphone will be available for costumer's use during their 30 seconds on stage. No recorded audio will be permitted. |
| • | Only one entry per person. This means you may walk across the stage once, and you cannot appear in more than one costume for the event. If a model is presenting your costume, you may not appear in another. |
| • | Weapons. If your costume has a prop weapon or a costume weapon secure it and use it only as a costume piece. Security staff will take threatening others (even in play) seriously. All weapons will be peace-bonded and any brandishing or otherwise aggressive behavior will be dealt with according to security's discretion. All decisions regarding weapons ultimately lie with event staff, hotel staff, or hotel security. Please respect all decisions regarding this policy. |
| • | Keep it PG-13. No nudity or risqué costumes or gestures. |
| • | No substances that can be harmful to you, the staff, or the audience will be allowed. This can include, but is not limited to: silly string, water, flames, explosives, and paint. Make sure that anything that comes onto stage with you leaves with you. |
| • | Surprise the audience, surprise the judges, surprise yourself! But do not surprise the contest staff. The Costume Contest event staff has absolute authority to disqualify any participant if necessary, and these rules are subject to change. |
| • | All decisions by event Judges decisions are final. |
| • | Event staff reserves the right to reject any entry for any reason. |
| • | Failure to comply with these rules or failure to follow the instructions of the event or security staff will be grounds for disqualification. |
| • | Any competetitor may be removed during pre-judging if their entry does not meet competition standards. |
| • | Any competetitor not present when their entry is called to stage may be disqualified. |
| • | Contestants that have been disqualified or removed will not be eligible for any prizes or awards. |
Helpful tips:
| | |
| --- | --- |
| • | Eat, drink, and use the restrooms before the event. Don't starve yourself. The stage and staging area are hot places to be dehydrated. Especially if you're in a hot stuffy costume. |
| • | Bring a crisis kit for your costume! Through an accident or other act of fate part of your costume may become loose, damaged, or worn. A small package of thread and needles, tape, scissors, safety pins etc. can go a long way. |
| • | For cumbersome costumes - be sure you can safely get on and off the stage. |
Costume Contest Judging
| | |
| --- | --- |
| • | Costume Competition participants must be registered before the event. The number of entries are limited. |
| • | Participants are to come to the Costume Contest staging area in FULL COSTUME 1 hour before the event |
| • | When you arrive at the Costume Contest staging area, you will be lined up and assigned a number. |
| • | When you are introduced for the audience, relax and have fun! You'll have 30 seconds to pose however you want. There will be markers on stage for you to stand on and pose. PLEASE stop for just a second or two and pose for the cameras. Too many excellent costumes loose their chance to be photographed because they get nervous and hurry off stage. These markers are there to help remind you to strike a fashionable pose! And for the best effect, make sure to do poses that the character does, or something that seems in character. |
| • | After you exit the stage, that's it! You're all done! Return to the staging area. Awards will be announced and presented after the conclusion of the event. |